Underneath that, the following verbiage: For 117 years, The Day Nursery has provided young children and their families with outstanding early childhood educational experiences that have created a solid foundation for success in school and in life. We can not do that without the support of donors and business and community partners. Your support makes it possible for The Day Nursery to make a quality early childhood education accessible to all families who wish to enroll.
Together we can unlock the potential in every child to create a strong educational foundation that lasts a lifetime. Become a Day Nursery Champion for Children through our monthly giving program. Donate here and choose the recurring donation option.
Check
Checks may be mailed to:
The Day Nursery
1139 Randolph St.
Oak Park, IL 60302
Please make checks payable to The Day Nursery and indicate your giving designation, in any, in the memo line.
Many employers participate in a matching gift program, giving you the opportunity to double or even triple your contribution to The Day Nursery. Please ask your employer if they have a matching gift program.
Giving appreciated stock to The Day Nursery is a strategic way to increase tax savings – you can claim an income tax charitable deduction and avoid paying the capital gains tax you would pay if you had sold the stock, rather than give it to therapy. Contact Cari Christoff, cchristoff@thedaynursery.org for instructions on how to donate stock.
Donors may recommend grants from their DAF to IRS-approved 501 © (3) public charities. The Day Nursery is a qualified charity.

Donors may make a gift from a DAF to The Day Nursery as a one-time gift, and annual gift, or designate The Day Nursery as a beneficiary of all or part of the DAF after the donor is deceased. Donor may not use their DAF to purchase event tickets or for any other gift where they receive goods or services.

Information requested by Fund Administrators:
Legal Name: Oak Park River Forest Day Nursery
Tax ID Number:
Incorporated: 1912
Address: 1139 Randolph St., Oak Park, IL 60302
Phone: (708) 383-8211
Your planned gift creates a legacy that lives on and ensures The Day Nursery can continue to provide quality early childhood education for future generations. By communicating your intention to leave a gift to The Day Nursery in your estate plan, you become a member of the Elizabeth Charlton Legacy Society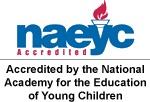 To learn more about our programs or to schedule a tour.​