Getting a preschooler to write can be difficult due to several factors. An important one is, Is your child interested in writing? In the Rainbow Room, the children have been interested in gardening and insects so I took those interests and produced writing 'games' for the children to do based on those interests.
The children are playing Roll-A-Letter. The child rolls a die and must write the letter that the die lands on. This is a great way for the child to work on letters that they already know and work on letters that they are having some difficulty to write.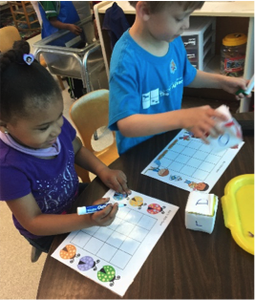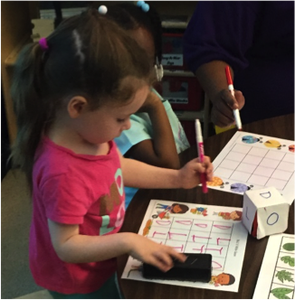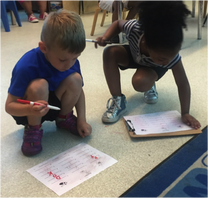 Is your child interested in cars? You can have your child painting with cars on paper (in the picture we practiced on the slide first) or have your child drive their car on a letter road.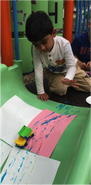 Before your child can write well they need to have developed the muscles in their hands that will enable them to have the necessary skills to hold and maneuver a pencil. By learning and practicing these skills it will help your child be confident about becoming a writer.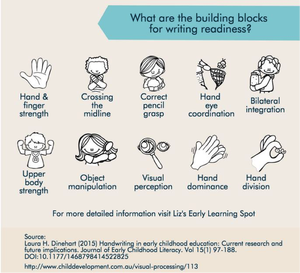 Some examples of writing readiness skills or fine motor activities that will help your child in developing the muscles in their hands are:
–Cutting with scissors
–Brushing their teeth
–Eating with a fork or spoon
–Using tweezers
–Manipulating small objects (putting a puzzle together, stringing beads or moving a game piece on a board)
Putting a puzzle together with a friend. The children worked together in trying to figuring out and manipulating each piece until they finished the puzzle together.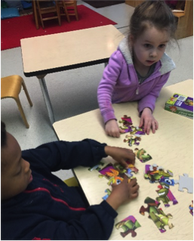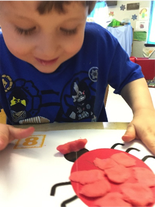 Working with play dough. This child separated the play dough into small pieces to give the ladybug 8 spots and a face.
Moving a game piece on a board. The child makes sure his spider lands on each rectangle on its way to the water spout.
Using Tweezers. The children are counting out frogs and are using the tweezers to place each individual frog onto the pond mat.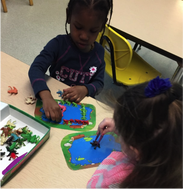 Cutting with scissors. Cutting paper is a desired skill but you can make cutting interesting by having your child cut a variety of things that you approve of. In this picture the children were really excited to help trim the grass with scissors.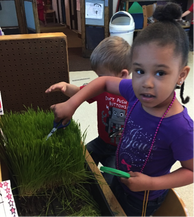 Working with small objects. In this project the children made caterpillars with pom poms. The children then asked for other materials to add to their caterpillars such as leaves and eyes.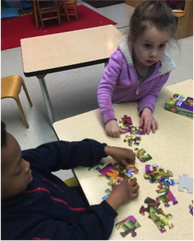 It is important to set up children for success. They will gain a level of confidence that will help carry over in later grades and do well. That is why it is so important to help children develop skills that will help them to become great writers. Why not help your child to develop the skills they need while having fun as well? Having your child do school work while having fun will continue their excitement about learning throughout their school career.
For more information and activities on writing readiness you can visit:
http://www.lizs-early-learning-spot.com/pre-writing-skills-essential-for-early-learners/
http://www.readingrockets.org/article/developing-writing-and-spelling-home-pre-k