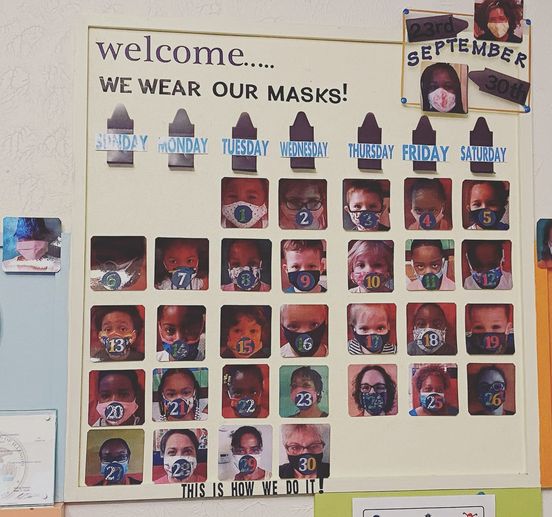 On July 13, 2020 – the same day The Day Nursery welcomed children back into the building for services – the National Association for the Education of Young Children (NAEYC) released a survey with chilling statistics. NAEYC surveyed more than 5,000 early childhood providers across all states, Washington, D.C., and Puerto Rico.

The most jarring statistic is that due to decreased enrollment and significantly higher costs, only 18% of childcare programs expect to survive longer than one year – if they do not receive significant support. Early Childhood Education is a cornerstone of the United States economy. Without accessible, quality early childhood education, the United States economy will stall.
The Day Nursery has been serving the children of working families for 108 years. We have survived the 1918 pandemic, World War I, the Great Depression, polio, World War II, and the Great Recession. The Day Nursery leadership and generous donors have taken steps to ensure we continue for another 100 years. Some of our parents who could afford it kept paying tuition while The Day Nursery was closed. We were able to obtain a PPP loan so we could keep our outstanding staff employed. And The Day Nursery has received support through Illinois' Child Care Restoration Grant.
But we need everyone's help.
How Can You Help?
What can you do? As you can imagine, donations are always welcome. But if you cannot donate, contact your State and Federal representatives. Tell them how crucial early childhood education is to you and the American economy. Share the NAEYC survey with them. Tell them that America's tomorrow depends on providing the best foundation today for our youngest citizens.

You can also help us spread the word that The Day Nursery has ten available slots for pre-Kindergartners. Parents can contact our Parent Coordinator, Corey Nekimken, for more information. In our blog, Back to School and Safety During COVID-19, we outline just some of the ways we are working to ensure the safety of our children, staff, and families
As always, we are grateful for everyone's continued support – large and small – that enables us to continue to serve the community.