Some parents have asked me how they can incorporate literacy into the various activities that they partake in with their child. This is one of my favorite activities to do with my students. Letter art is a quick and easy way to help your child learn their letters. It incorporates 3 different senses into the activity: touch, sight, and smell.
Materials Needed:
Small canvas boards
Masking or painters tape
Finger Paint (colors of choice)
Scents (we use cinnamon or ginger, check for allergens!)
Trays
Smocks or old shirts
First with the help of your child cut the tape into strips. Then place the tape onto the canvas in the shape of the letter you choose to work on. For our project we started with A.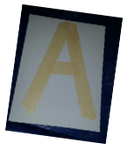 Next I prepared our paint colors. If you are not using finger paints add two drops of dish soap to the regular paint being used. It helps to remove the pigment from clothing and skin.
It also helps to keep a wet towel or a package of wipes in arms reach as well!
The next step is to paint your child's hand. I allow the children to choose the pattern of colors.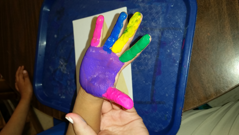 After painting your child's hand let them loose on the canvas board. While the paint is wet carefully peel the tape away. You can wait until it is dry as well. Once peeled set to the side and this is what your final product will look like.